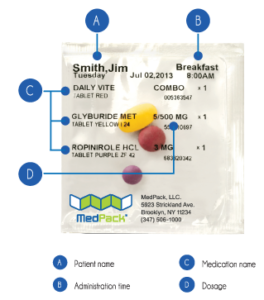 MedPack pre-sorted medication packets are:
Organized by dose, date and time
Securely sealed
Clearly labeled
Easy to open
Ideal for travel and every day
No pill boxes. No bottles. No bother.
Instead of emptying bottles and separating all your individual medication into pill boxes – and struggling to keep track of doses at a time – MedPack simplifies the entire process by delivering all your prescribed medications in sealed, pharmacists-verified packets with all of the instructions clearly printed on the outside of each packet.
This proven deliver method not only helps ensure that your pills are taken consistently and correctly, but also frees your time and immeasurably improves your quality of life.
MedPack takes the pills "out of the box" and into your hands – error-free – every time.
Ask your doctor to send your prescription to MedPack for pre-packaged strips in a handy table-top dispenser. MedPack is covered by insurance.